Aries Grid is a safer, more sustainable energy storage system based on LFP cells that will be manufactured by 2024 at ONE Circle, the company's Michigan factory.

Aries Grid will be offered in 2-, 3- and 6-MWh options to support modular and scalable renewable energy storage.

Aries Grid is economically competitive renewable energy storage at utility scale enabled by the Inflation Reduction Act (IRA).
NOVI, Mich. Feb. 23, 2023 – Michigan-based Our Next Energy, Inc. (ONE), announces Aries Grid, a lithium iron phosphate (LFP) utility-scale battery system that can serve as long-duration energy storage. Manufactured in America, Aries Grid represents a milestone achievement in efforts to scale-up investments in renewable energy infrastructure and grid reliability.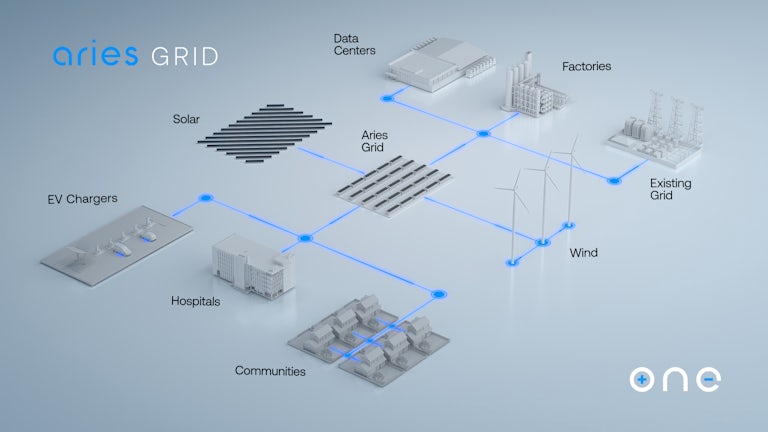 Aries Grid - Mini City
"Energy storage is the key to decarbonizing both mobility and the grid." said Mujeeb Ijaz, CEO & Founder of ONE. "With Aries Grid, ONE is servicing a market demand for safer and more sustainable utility-scale energy storage solutions that are, for the first time, cost competitive with fossil fuels, thanks to the Inflation Reduction Act." 
The IRA introduced tools that enables ONE and its customers to take advantage of product cost offsets and federal investment tax credits to develop Aries Grid. This support means that Aries Grid can be utilized with renewable energy capabilities to provide baseload generation, a previously cost-prohibitive exercise in many markets. 
Leveraging ONE's Aries transportation 79-kWh battery pack, Aries Grid will be offered in 2-, 3-, and 6-MWh modular units that allow for system customization. The lithium-ion energy storage system uses an LFP cathode chemistry that is more durable and has double the lifetime energy throughput of the nickel, cobalt and manganese (NCM) chemistries which make up most commercially available stationary energy storage systems in the U.S. With discharge times ranging from 4 to 12 hours, Aries Grid can create a renewable microgrid that provides 24x7 firm capacity baseload to power factories, data centers and communities.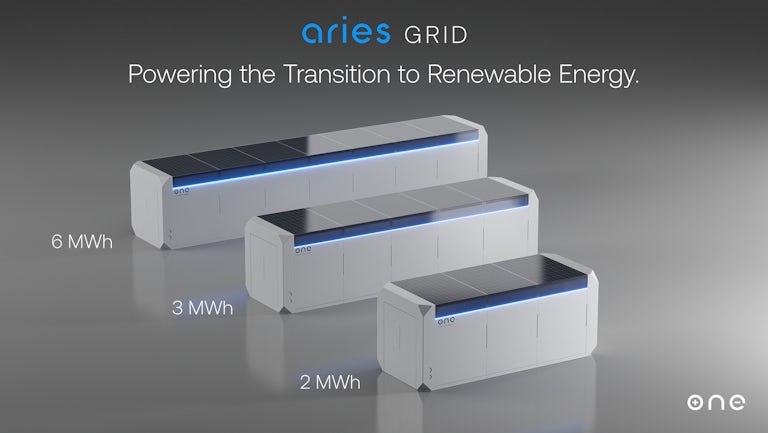 Aries Grid - Product Lineup
"Aries Grid offers utilities a versatile grid asset while providing businesses with a tool to help decarbonize their supply chains," said Dr. Deeana Ahmed, Vice President of Strategy, Policy & Sustainability of ONE. "With durable, sustainable, Michigan-built batteries, there is a real path forward to increasing renewable electricity across the U.S. and around the world."
Last year served as evidence of the shifting landscape of energy in the U.S. In 2022, more than 60% of new capacity added to the country's utility grid was based on renewable energy. 
More information about Aries Grid is available at one.ai.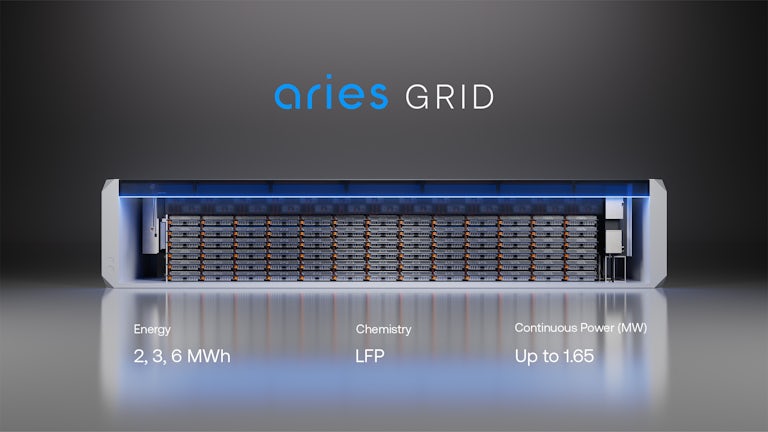 Aries Grid - Internal
About Our Next Energy
Our Next Energy Inc. (ONE) is a Michigan-based energy storage technology company focused on engineering batteries that will accelerate electrification. ONE's vision is to: double the range of electric vehicles; use safer, more sustainable raw materials; and establish a localized supply chain. Visit one.ai to learn more.
Media Contact:
Dan Pierce 
Our Next Energy Inc.
dpierce@one.ai